Work safety at whim of climate

Print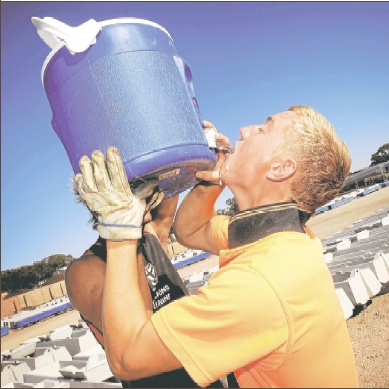 Public health officials say that as the length and severity of hot weather increases, work practices will need to change.
Increased climate variability will bring more frequent and intense heatwaves across south-east Australia, leading professor of public health at the University of Adelaide, Peng Bi, to push for occupational health and safety laws that can accommodate the changing climate.
"During a heatwave, the 38-hour, nine-to-five week may not be the best thing, or the most healthy way to work," he said.
"Some regulations should be set up to get employers to pay [fresh] attention to the occupational health and safety of their employees."
Professor Bi said Australian heatwaves were often more dangerous than other extreme events such as storms.
"Heatwave kills people more than the combination of all other natural disasters," he said.
Following a heatwave in 2009, SA Health says ambulance callouts rose by 16 per cent while hospital emergency department admissions for heat-related illnesses were 14 times the average.
Senior weather forecaster John Nairn recently told ABC reporters that Australian life must adapt to increasingly severe heat.
"We have to start talking about the impacts of these events," he said.
"The national weather service in America has been forecasting big natural hazard events quite well for a long time, but they are not seeing sufficient change in the way the community is getting benefits from those forecasts.
"So we have to learn how to communicate this to people at a level where they start taking action that is more meaningful."