Wind funds blow Barnaby's way

Print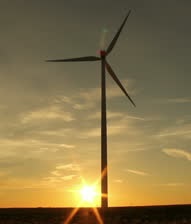 The Clean Energy Finance Corporation (CEFC) has put up $120 million for a wind farm in Barnaby Joyce's electorate.
Just months after Mr Joyce inaccurately blamed South Australian wind power for the state's big September blackout, the turbines are coming to town.
The CEFC says its $120m loan for the 75-turbine Sapphire project will help create NSW's largest wind farm, providing power for 110,000 homes while abating 600,000 tonnes of carbon emissions a year.
"In order to achieve Australia's renewable energy target, we need to see the accelerated development of many more large-scale renewable energy projects in the near term," CEFC wind sector lead, Andrew Gardner, said.
The $558 million Sapphire windfarm will be located between Glen Innes and Inverell in NSW's New England region, part of Mr Joyce's electorate.
It is expected to provide up to 270 megawatts of electricity per day, with the ACT Government lining up to buy 100 megawatts of that capacity in order to its 100 per cent renewable energy target by 2020.
Developer CWP Renewables has previously built the Boco Rock windfarm in southern NSW.
As well as the CEFC's $120m direct loan, the windfarm will be funded by EKF, Denmark's export credit agency, the Commonwealth Bank of Australia and Sumitomo Mitsui Banking Corporation.