Welfare-postal merger slammed for security, viability, care concerns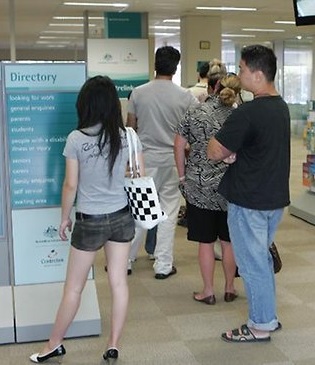 There has been widespread criticism of a proposal to move Centrelink's front desk duties to Australia Post outlets, after the Treasurer confirmed it was an option.
Reports this week say it will be one of many streamlining and cost-cutting measures considered by the Commission of Audit, which will seek to root out and remove government expenditure it deems excessive or unnecessary.
The Community and Public Sector Union (CPSU) has responded to the possibility, warning that while a "one-stop shop where you can sort out your mum's pension entitlements and pick-up your eBay parcels sounds good in theory" the plan would lead to "massive queues" and a serious loss of privacy for all customers.
The uncertainty over the purview and recommendations of the upcoming Commission of Audit will no doubt continue until official word comes months from now. However, early indications say it does not bode well for many public servants.
There are many conditions at the front desk of Centrelink offices which require patience, understanding of individual situations and the welfare system, and a variety of assistance which would be very difficult for Australia Post staff to duplicate, some authorities have said.
The plan is seen as part of an overall push to consolidate government services to the minimum amount of staff, departments and offices – creating 'one-stop-shops' where before there were specialty outlets.
Centrelink and Australia Post are two of the largest sections of the public service, with the most recent Department of Human Services report saying "at 30 June 2013 the department maintained a leased portfolio of 708 commercial properties around Australia occupying 814 631 square metres," of which 441 offer Centrelink services.
Australia Post reports operating "Australia's largest retail network with 4,428 retail outlets (including 2,560 in rural and remote areas)" – and employing more than 33,000 staff.
Many are concerned at the sheer scale of the result of combining the two services, let alone the abilities of staff to undertake such divergent roles.
CPSU National Secretary Nadine Flood says many Centrelink customers needed help "dealing with the implications of family breakdown, unemployment and health issues," that often require "specialised and sensitive support and assistance which would be hard to deliver in an Australia Post environment."
There are serious security issues raised by some Centrelink customers too, with warning alarms placed around the welfare offices. Similar measures would have to be taken in Post Offices too.