Sun striders take to tarmac

Print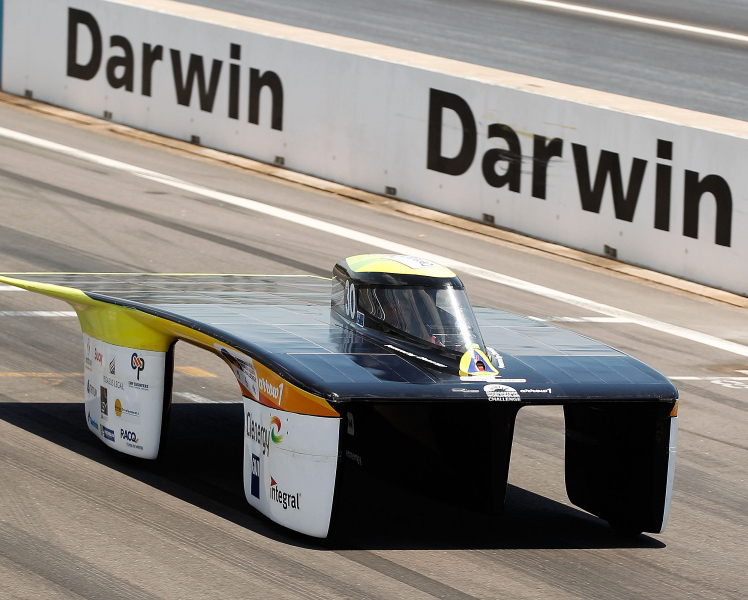 The world's premier solar car race is rolling out of the Northern Territory, leaving from Darwin on a 3,000km run to Adelaide.
A field of 46 cars from 25 countries took off from the Northern Territory Parliament on Sunday, with excited cheers of a large crowd encouraging racers down the Stuart Highway.
The 2015 World Solar Challenge was led by the Netherlands' Team Eidenhoven vehicle 'Stella Lux', and has already seen some setbacks.
An Iranian car, the 'Persian Gazelle III', was just a few kilometres from the start line when it got its first flat tire.
A Japanese entrant called 'K.I.T Golden Eagle 5.1' broke down just after the race began as well.
Many of the cars are the result of years of work by university experts with some pretty big budgets, but not everyone has been able to go the high-tech, high-cost route.
One car running for the Texas-based Liberty Solar Car team was put together by high school students.
"We got our car up to 51kph yesterday, we're hoping to get a little faster today," Liberty's Cameron Mutis told reporters at the starting line.
The University of New South Wales solar racing team Sunswift will seek to defend its reputation in the cruiser class - which features more practical solar cars for 2–4 occupants.
Sunswift was awarded Line Honours at the last event in 2013, as it was the fastest competitor to complete the race but ended up third overall after the inclusion of points for 'practicality' and for carrying passengers.
Denmark's Team Nuon are the defending champions of the challenger division.
Team member Bianca Koppen said she was not worried about missing out on pole position.
"Two years ago we started on place 20 and we came first... so no, it doesn't affect us I think," she said.
"We've worked for this for I think 14 months so D-Day is today so it's very, very exciting."
Live team trackers and a frequently updated leaderboard are available at the official World Solar Challenge website.