Solar freeze stings installers

Print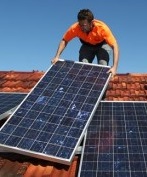 Solar companies are feeling the strain of the Victorian Government's freeze on a solar panel rebate program.
The state's $1.3 billion solar homes package has been so popular that the rebates for this financial year have run out.
"We'll spend the next few weeks processing existing applications in the system and working with the industry to complete the outstanding installations," the state government said.
There are currently over three times more applications in the system than the number of rebates available.
A new program coming out on July 1 will have "even more rebates available, along with zero interest loans" the Government said.
Meanwhile, some solar-installation companies say work is drying up.
Clean Energy Council CEO Kane Thornton says the Victorian Government should reallocate next year's funding for use over the next two months.
"Freezing the rebate program has caused great distress in the industry," he said.
"I've spoken to many businesses, many of them in rural and regional Victoria that are feeling the pain and have already started to reduce the number of people that work in their businesses.
"That's ultimately because the sales of solar systems will come to a grinding halt through this 10-week period and unfortunately this means these businesses will lose revenue and they're going to have to take some pretty drastic action as a result."