Silicosis sweep finds 160

Print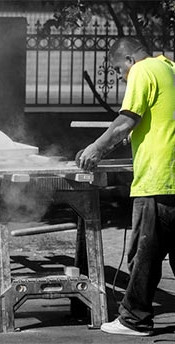 Almost one in five Queensland stonemasons appear to have a potentially deadly lung disease.
WorkCover Queensland has run health screenings of more than 1000 stonemasons across the state, finding 160 have silicosis, while a further 26 have the more severe progressive massive fibrosis.
Silicosis usually comes from breathing in dust that contains silica while cutting stone benchtops, leading to a scarring of the lungs and breathing difficulties.
Jonathan Walsh from legal firm Maurice Blackburn wants both state and federal governments to take action.
"Some of our clients have spoken of the dust from dry-cutting kitchen benchtops being so thick in the air they could barely breathe," he said.
Mr Walsh said Queensland is the only state to have investigated thoroughly.
"In NSW, for example, we have no idea how many stonemasons have been diagnosed with silicosis - and according to a recent parliamentary submission, even the medical experts say they don't know," he said.
The Queensland government has rolled out new industry regulations to ensure worker safety.
The regulations came into effect last year, seven months after the death of Gold Coast stonecutter Anthony White – potentially the first Australian tradesman to die from the condition.
The state government imposed new protocols for dust control, protective equipment, air monitoring and safe installation.
The Queensland government has also banned dry cutting of stone and issued a public warning about working with engineered stone.