Rio's robots signal automated rise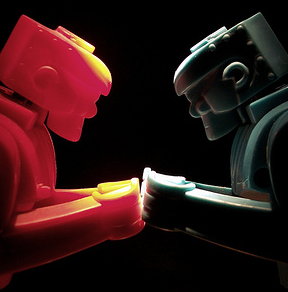 Western Australia is in the grips of the rise of robo-trucks.
The world's first two mines to haul iron ore in fully remote-controlled trucks have gone online in the Pilbara.
The pits at Rio Tinto's Yandicoogina and Nammuldi mine sites are being run by workers who control driverless trucks from an operations centre in Perth - 1,200 kilometres away.
The company has mapped out its entire mine, and fed the information into a system that works out how to manoeuvre the trucks.
Rio now has 69 driverless trucks in its mines at Yandicoogina, Nammuldi and Hope Downs 4.
They can run 24 hours a day, 365 days a year, with no need for bathroom or lunch breaks.
Industry insiders estimate the technology will allow each truck to save around 500 work hours a year.
Proponents say automation takes away dangerous jobs while slashing operating costs.
But the plans do not stop at trucks.
Rio is also running trials of unmanned trains and even massive robotic drills.
The company aims to roll out the machines across as many of its mines as possible.
It is expected that the company will be able to run most of its supply chain to be remote-controlled from Perth.
Rio has emerged as a leader of the robot revolution, but its rivals BHP Billiton and Fortescue Metals Group are eagerly getting into automated mining as well, trialling similar technology at their Pilbara mines.
Companies are struggling to maintain the conditions of mining boom that pushed up wages and costs to unrealistic heights, while also dealing with ongoing scrutiny of safety in mines.
Market commentator Giuliano Sala Tenna from Bell Potter Securities says it is necessary for Australian producers to keep ahead of the game.
"The benefit of technology is the one to many relationship, so you can just have one individual or one full time equivalent doing the job of many people," Mr Sala Tenna told the ABC.
"What they are really looking at is what is going to be required for the next decade to stay profitable and this is one of the things they need to do in order to stay profitable through the entire cycle."
But increased automation creates the need to train a workforce with a different skill set.
Senior lecturer with Curtin University's School of the Mines, Dr Carla Boehl, says the changing industry creates new opportunities for students.
"In terms of trades, there will be fewer jobs, but in terms of maintainers we still need them, we can't live without them," she said.
"All this technology, bit data and analytics will actually increase the number of jobs in more analytical work, it is a change from trade jobs to more analytical ones."
Dr Boehl said young students are embracing the new technology.
"The students themselves are interested, they want to do their thesis in this field and learn more about automation," she said.
"At a post graduate level we are starting to do more work regarding maintenance, automation, we do a lot of big data understanding, what is big data, what algorithms can be used to support systems."
But she said students were limited in what they can learn due to a high level of secrecy shrouding the evolving industry.
"It is still a bit of a secret in terms of what is happening in automation, because we don't have the information from the big players," she said.
"I have students wanting to do PhDs in this topic, but we need the data to do that, we are not getting that data from companies like Rio Tinto, BHP or FMG.
"We will continue talking with these people and negotiating to get that."
Rio says it will be able to introduce fully-automated trains by the middle of next year, if the Office of Rail Safety includes the technology in its next set of safety guidelines.