Recycling report finds piles

Print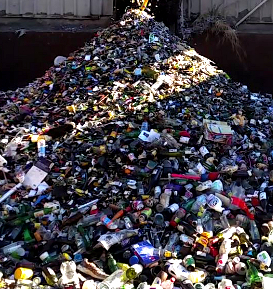 Australia's recycling industry may not be doing nearly as much recycling as many people believe.
Media investigations have found that much of Australia's plastic waste is not being reused or recycled at all.
Australia's plastic recycling chain has for decades ended in China, but China has now closed its doors to Australia's low-grade plastic waste, leaving companies desperate for a new place to send it.
Tonnes of mixed plastic is piling up in yards and warehouses across Australia, while the waste that does get exported is ending up in less scrupulous hands.
Our waste is being dumped, buried and burned in processing locations across Southeast Asia, according to journalist Liam Bartlett.
He says Malaysia is taking China's place as the world's largest importer of plastic rubbish, with Australia having sold more than 71,000 tonnes of plastic to Malaysia in the past 12 months.
The Malaysian recycling chain often ends in illegal processing facilities and junkyards.
Local processors and environmentalists say they want government support to improve the processing of waste onshore.