Queensland claims stone progress

Print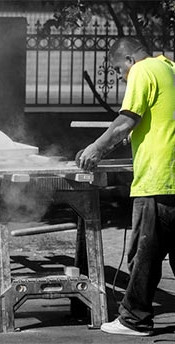 The Queensland Government has responded to the death of an engineered stone worker.
Gold Coast stonemason Anthony White has been remembered for his role in exposing the dangers of silica dust.
He is the first person from the engineered stone industry in Queensland to die from silicosis.
"On behalf of the Government, I extend my deepest sympathies and condolences to his family and friends," Queensland Industrial Relations Minister Grace Grace said in a statement this week.
"Even in the face of immense personal tragedy, Mr White showed incredible bravery in highlighting the deadly consequences of prolonged and unsafe exposure to silica dust."
The state is now planning to ban dry-cutting of engineered stone.
"Engineered stone industry workers and their families can be assured that we're doing all we can to support workers diagnosed with this disease," Ms Grace said.
Since the first urgent safety warning was issued on 18 September 2018, the Government says it has:
undertaken audits of all 138 known engineered stone benchtop fabricators in Queensland;
arranged for free health screening of 810 workers in the engineered stone benchtop industry with estimated cost of $3 to $4 million
hosted two forums in relation silicosis on 9 November 2018 – a medical forum with discussion facilitated by leading international expert Professor Robert Cohen and national expert Dr Ryan Hoy
held an industry forum for employers and workers within the engineered stone benchtop industry attracted over 130 attendees
established an expert medical working group which held its first meeting last week
ensured the issue of silicosis is on the national agenda