Quad bike laws loom

Print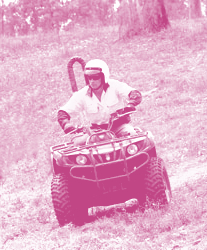 Reports say the Federal Government will soon introduce new quad bike safety laws.
Laws requiring new quad bikes to be fitted with mandatory rollover protection will be announced soon, according to the ABC.
The Australian Competition and Consumer Commission (ACCC) has been calling for such changes for several months.
Over 130 people have died in quad bike accidents in the last 8 years, and 60 per cent of those fatalities involved rollovers.
Operator or crush protection bars cost about $600 to $700, and rebates for installing them are already being offered by the New South Wales, Victorian and Tasmanian governments.
Manufacturers including Yamaha and Honda do not fit quad bikes with crush protection, and say they might pull out of the Australian market in response to any new laws.
Yamaha Motors Australia's chief executive Brad Ryan has slammed university research on the matter as "appalling science".
He says many crush protection devices are not safe or fit for purpose.
Nationals MP Mark Coulton said quad bike manufacturers may be trying to limit their litigation risk overseas.
"My understanding is that there have been about 15,000 deaths in the United States involving quad bikes. I think there might be some concerns around litigation that might come from an admission that there is an issue in design," he said.
"It's not a huge added cost to the machine so I think there's deeper concerns as to why the manufacturers are behaving the way they are."