Promised plan to lend a hand to injured workers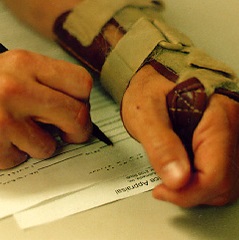 A hopeful contender for the leadership of the Labor party says he will work from the Opposition to create a nation-wide rehabilitation program for workers.
Reports say Bill Shorten's strategy would make sure that people on disability pensions and injured workers can return to work as easily as possible. He says the 820,000 people on the disability support pension need help, rather than to be ignored.
"This is not about punitive measures, nor attacking benefits but a view that people should not be left behind and discarded," Labor member Bill Shorten said in a statement overnight.
As a driving force behind DisabilityCare, Mr Shorten says he would not use his time in Opposition to take shots at the Government, but rather work productively on health reforms and other policies.
"There is too much public policy in Australia which says; 'we pay people the disability pension, that's the end of our obligation to them'."
"Labor needs to be the party which can reach up on the shelf of public policy, get the ladder, climb right up to the top into those remote corners, get the too-hard basket down and say to people who we've consigned to a form of virtual exile, we're interested in how we work you on national rehabilitation."
Mr Shorten may have been beaten to the punch by the current federal Government.
A program similar to the one he suggested is already in place, according to Assistant Minister for Social Services Mitch Fifield.
"It is not perfect and whatever we can do to remove barriers, whatever we can do to help people back into the workforce, we should look at," he said.
"We're going to work methodically and purposefully through these issues to do whatever we can to lift the employment rate of people with disability."
Maree O'Halloran from the National Welfare Rights Network says the complex issue needs consultation and care to work through.
"I would also like politicians to consider those people who are on the Newstart allowance with multiple disabilities as well," she said.
"For example, in New South Wales we're seeing workers cut off [from] the workers' compensation scheme, who cannot get onto the disability support scheme and are left on the Newstart allowance without support, not able to pay their accommodation, often not able to pay for their medication."