Mining deals mired

Print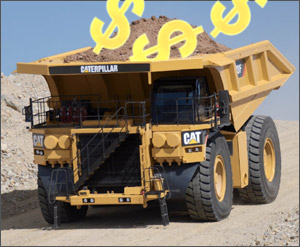 Analysts say the value of global mining deals is dwindling.
Accounting firm Ernst & Young has issued a report showing the value of deals has plunged by 45 per cent over the year to March, down to $US3.3 billion ($4.5 billion) in the first quarter of this year.
The report forecast further adversity for the rest of 2016, with mining companies facing volatility in commodity prices, increasing distress and subdued investment appetite.
But there could be light at the end of the tunnel, with expectations that deal activity will pick up in 2017, as companies seek to cut debt and distressed companies are sold out by their lenders and other creditors.
Australia's 17 deals for the first quarter of 2016 was a near record low.
In fact, just two big deals accounted for 97 per cent of the total deal value of $US1.4 billion.
Rio Tinto's Bengalla coal mine in the Hunter Valley was sold for $US606 million to New Hope, while Australian-based private equity group EMR Capital and its US partner Farallon Capital sold the Martabe gold and silver mine in Indonesia for $US775 million.
Paul Murphy, Ernst & Young Oceania's head of mining and metals transactions says the mining industry is aiming "lower for longer".
"Gold is one thing, but in terms of the rest of the sector there has just been no appetite for deals or no deals getting done," he said.
"There's just been this stalemate between buyers and sellers despite a number of potential assets being for sale."
Mr Murphy said this was behind the lack of deal activity.
"The types of assets that have been up for sale, they have been sort of the second tier, second rate type assets and they are not as sought after," he explained.
"The really sought after assets, that are tier one and high value type of mining assets, the prices that the sellers have wanted for those have not been what the buyers wanted to pay."