Learner biker 'bot lays out human challenge

Print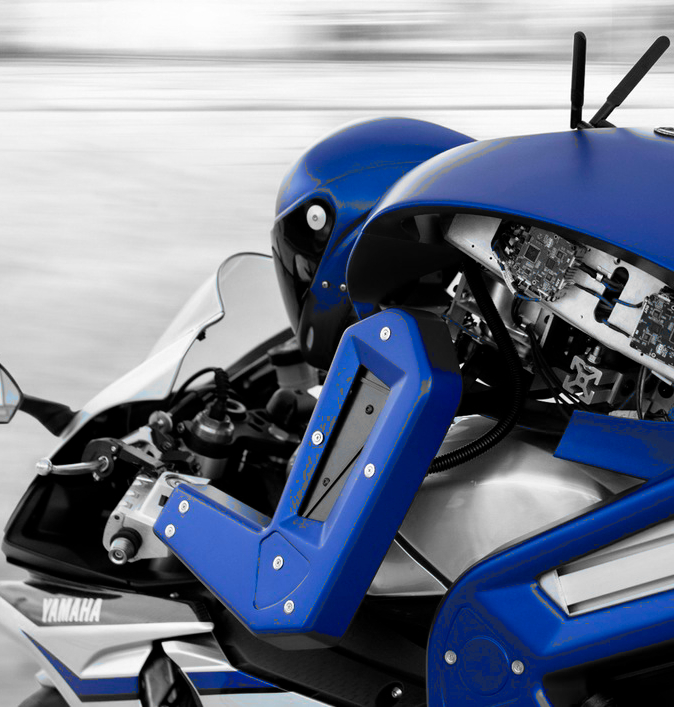 Yamaha's new motorcycle-riding robot has called out nine-time world champion Valentino Rossi.
The robot was unveiled at the Tokyo Motor Show, and has warned Mr Rossi that it was created to surpass him, and intends to do so.
Yamaha calls its "an autonomous motorcycle-riding humanoid robot" MOTOBOT. It was designed with rigid legs and torso, arms jointed at the shoulders and wrists, but fixed elbows.
MOTOBOT has been demonstrated riding a 1,000cc R1M superbike modified to include long training wheels to prevent it being damaged as it learn to ride like Rossi.
It can steer and operate the throttle, clutch and gearbox - either remotely or autonomously.
Yamaha has posted videos on YouTube showing an "open field run" with an engineer monitoring a video feed from MOTOBOT's perspective through the windscreen.
Emboldened by its well-publicised beginnings, MOTOBOT laid down the gauntlet to one of the world's greatest riders.
"The way you ride is both beautiful and exciting," MOTOBOT said of Yamaha rider Rossi in a voiceover.
"I am improving my skills every day but I am not sure I could even beat the five-year-old you. Perhaps if I learn everything about you, I will be able to catch up.
"I am not human, but there has to be something only I am capable of."
Yamaha has issued a statement explaining that controlling a motorcycle at high speed "requires a variety of control systems that must function with a high degree of accuracy".
"R&D is currently underway with the goal of developing the robot to ride an unmodified motorcycle on a racetrack at more than 200 km/h," it said.
Yamaha says the robotic research has the serious goal of informing advanced rider safety systems.
Valentino Rossi is yet to respond.