Joyce chased for drought texts

Print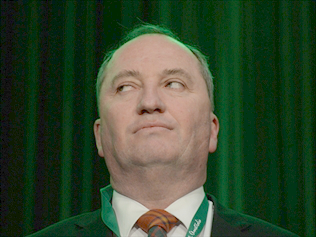 Barnaby Joyce is being hounded over alleged reports he produced during his role as special drought envoy.
Mr Joyce has failed to produce a single report on the drought after he was made special envoy for assistance and recovery by the prime minister, Scott Morrison.
Shadow agriculture minister, Joel Fitzgibbon, has sought details of any report completed by Joyce through a production of documents order in parliament, which revealed there was not final report.
"When Barnaby Joyce was appointed special envoy for drought in August 2018, I called it a 'slap in the face' for farmers, and that's exactly what it has been," Mr Fitzgibbon told reporters.
"Now we find out that the special envoy has not written a report on his role. The question is, what benefit did taxpayers receive as a result of the drought envoy's additional staff and travel resources they paid for? We now know the answer is none."
But Mr Joyce claims he sent an "awful lot" of reports directly to the prime minister via text message.
"If you say a report is a written segment to the prime minister … then they definitely went to him, I definitely sent them, I sent them by SMS to him and they were read," Mr Joyce told reporters.
"To say that they were not sent or not compiled is incorrect."
The prime minister's office has said through a spokesperson that a written report was not part of the terms of reference surrounding Mr Joyce's appointment.
Additionally, the Federal Government is refusing to release a report undertaken by the coordinator general for drought.
The report has been delivered to the government but remains the subject of cabinet deliberations.