Industry opposes quad bike reforms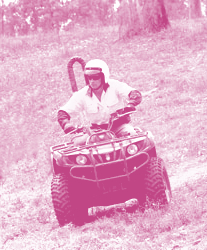 The quad bike industry is trying to fight new safety rules.
The ACCC has proposed making rollover protection devices mandatory for quad bikes, hoping to reduce the toll of one of the most dangerous vehicles in the country.
Otherwise known as crash protection devices or operator protection devices (OPD), the ACCC says new safety devices mounted to bike will help stop the vehicle from rolling on to the rider in an accident.
But quad bike manufacturers including Honda and Yamaha have threatened to withdraw their quad bikes and ATVs from the Australian market if the laws are made.
"There is an average of 16 deaths a year from quad bikes, half of those are from rollovers where the person is crushed underneath," Australian Competition and Consumer Commission (ACCC) deputy chair Mick Keogh said.
"They are playing with lives in this opposition to providing this sort of protection and we take that pretty seriously."
Honda and Yamaha both say OPDs would not improve safety, and are instead pushing for more training to address safety issues.
Yamaha marketing manager Sean Goldhawk has told ABC reporters that OPDs can actually cause injuries.
"They can pin you underneath when they rollover, they promote the ATV rolling on their side and most injuries occur when the vehicle is on its side," he said.
"Of course, fitting OPDs is not going to slow anyone down, it's not going to stop you from crashing into a tree, it's not going to stop you from having an accident.
"If OPDs become mandatory and they remain to be unsafe we could be up for litigation.
"It's not something we will risk, it's not something we want to risk with our customers. These things do not improve safety and we will not gamble with our customers lives."
Honda Australia Motorcycles and Power Equipment managing director Robert Toscano said some of the ACCC's requests are unacceptable.
"There are a number of parts to the ACCC draft and in most cases we can accept most of those points," he said.
"The final point is that manufacturers must fit a crush protection device and it says similar to a Quadbar or Lifeguard product.
"Firstly those products don't improve safety and secondly there's no real criteria for what they are [in the ACCC's recommendations]. We have no choice but to withdraw based on that one item."