Huge mine gets up on new green grounds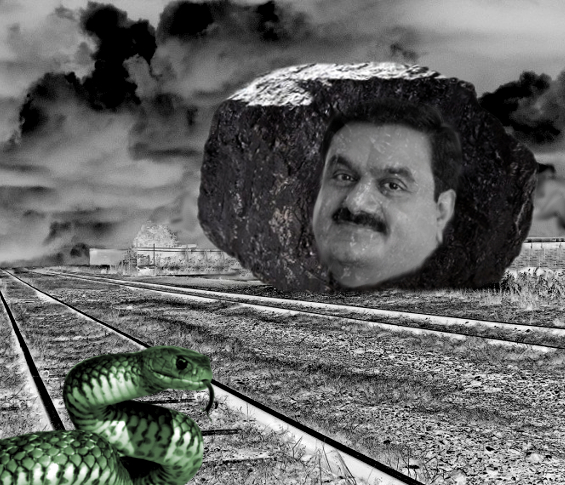 The $16 billion Adani Carmichael coal mine has been approved under a new set of environmental conditions.
While environmentalists lament the massive scale of the roughly 30,000 hectare mine, the Federal Government has suggested it would be immoral not to build it.
The green light was granted just a few weeks after the Federal Court set aside Carmichael's original approval, ruling that Environment Minister Greg Hunt had failed to consider the risk to two native endangered species – the yakka skink and ornamental snake.
In interviews over the weekend, the Federal Government restated its unbounded support for the project.
Federal Energy Minister Josh Frydenberg said it would create hundreds of jobs (thousands fewer than Adani claims), and help ease India's "energy poverty".
"I think there's a strong moral case here," he told ABC reporters.
"I've just been at the G20 and at the APEC energy ministers' meeting and they pointed out that over a billion people around the world don't have access to electricity," he said.
"This means more than two billion people today are using wood and dung for their cooking.
"The World Health Organisation says this leads to 4.3 million premature deaths - that's more people dying through those sort of inefficient forms of energy than malaria, HIV aids and tuberculosis combined."
Greens senator Larissa Waters responded to the claim, saying trying to bring morals into the argument was a sick joke.
"Claiming there's a moral case for coal exports confirms yet again how out of touch the Coalition is with the rest of the world," she said.
"Four out of five people without electricity in India are not connected to an electricity grid, so can't access coal-fired power.
"Building electricity grids is slow and expensive and the much cheaper, healthier solution is localised renewable energy."
Mr Frydenberg conceded that coal prices had dropped significantly since the project was first proposed, but denied the likelihood of it receiving federal assistance.
"This is a commercial operation, it needs to stand on its own two feet," he said.
"When it comes to the $5 billion concessional loan infrastructure facility we have for northern Australia, we'll be releasing the criteria shortly, but this wouldn't be a priority project for us."
The Energy Minister was also asked about the Coalition's attitude towards wind farms, something the former prime minister Tony Abbott called "noisy" and "visually awful".
Mr Frydenberg said under Malcolm Turnbull, the government was "agnostic" about the technology.
"We're agnostic when it comes to the particular forms of technology we use to get to our 23.5 per cent target," Mr Frydenberg said.
"Our view is, whether it's wind turbines, whether it's solar panels or hydro, we're agnostic about where this clean energy comes from."
Carmichael's approval is now valid until 2090, and is available here in PDF form.