Fossil subsidies top $10b/year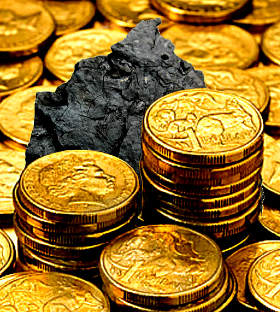 A new report shows Australian governments spend $19,000 a minute in fossil fuel subsidies.
The study by The Australia Institute points out that the $7.84 billion allocated for the fuel tax credit scheme in the Federal Budget is more than the $7.82 billion spent on Army capabilities or the $7.55 billion on Air Force capabilities.
In total it finds fossil fuel subsidies cost Australians $10.3 billion in FY 2020-21.
The report says state governments have contributed about $1.2 billion to coal, oil and gas companies by helping reduce the costs of exploration, funding esearch, improving ports, railways and power stations.
"We really now need to be talking about phasing these incentives out, particularly given the US under Joe Biden is looking at removing tax perks," Australia Institute research director Rod Campbell said.
"It's not just important for Australia to take action on climate change but some of this money could be going to schools, or hospitals or issues voters are really worried about.
"From a climate perspective this is inexcusable and from an economic perspective it is irresponsible. The major subsidies are Commonwealth tax breaks that mean the largest users of fossil fuels get a refund worth $7.8 billion on a tax that the rest of the community has to pay.
"This tax break not only funneled $1.5 billion to the coal and gas industries last year, but it made it cheaper for them to export fossil fuel to the rest of the world.
"A few years ago such subsidies would have been announced quietly, but now they're central to government policy. Australia is increasing fossil fuel subsides, while the Biden administration is committing to phase them out. Yet again, Australian governments are going against the tide of global trends and good climate policy," Mr Campbell said.
Further examples of state subsidies include;
Queensland upgraded its coal and gas power stations, ran a 'mine dozer replacement program' and provided other assistance measures worth $744 million last year, only slightly less than the $818 million spent on Fire and Emergency Services

Over the longer term, the Northern Territory is the biggest backer of the gas industry, with almost $4 billion committed to an offshore gas project and $1 billion for pipelines

Western Australia is spending hundreds of millions on fossil fuel-fired power stations, including $93 million on a gas-fired power station in a town of 848 people in partnership with Chevron

New South Wales is putting $100 million into 'coal innovation', but much of the research remains mysteriously unpublished, such as a cost benefit analysis of carbon capture and storage in the state

Victoria is spending $8.8 million to re-start an onshore gas industry and develop a 'gas roadmap', spending dwarfed by the $100 million going to turn brown coal into hydrogen and export it to Japan

South Australia put $10.5 million into a program that aims to accelerate gas exploration and has also budgeted $30 million for a jetty mainly used by gas company Santos

Tasmania's 2020-21 budget has no clear assistance for fossil fuels, although $73,000 was given to coal companies in 2019

The ACT is the only jurisdiction in Australia with no subsidies for fossil fuels, along with the most ambitious climate targets in the country
The full report is accessible in PDF form, here.