Feds called for in sandy stand-off

Print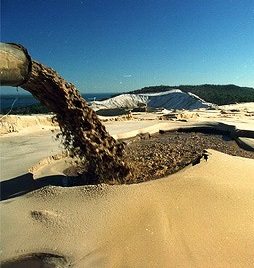 Three Queensland MPs have thrown their support behind continuing sand-mining operations on North Stradbroke Island despite widespread environmental and cultural opposition.
Family First's Andrew O'Shea, the LNP's Andrew Laming and Palmer United's John Wayne argued for the Enterprise sand mine to stay open at a local newspaper's election forum last week.
Mr O'Shea conceded the environmental damage caused by such an operation, but said that the remediation efforts on the island were world-class.
"Should the owners of the land agree that they can keep mining but they must keep regenerating the land and everyone was happy, I would say 'yes' please for employment on the island," the Family First member said.
LNP representative Mr Laming said: "I support mining continuing as long as it's economically viable and I support talking to indigenous elders on how that can occur."
The Palmer United member said his support was contingent on the local aboriginal population giving it the go-ahead first.
The debate has been going since former Queensland Premier Anna Bligh launched a timetable in 2011 to abolish sand-mining on the island, with a complete shut-down planned by 2019. The current Queensland Premier Campbell Newman has ignored an environmental report and said he would like to see the mine stay open until 2035.
The local Labor member says the mine should be assessed under the Federal Environment Protection and Biodiversity Conservation Act, saying "this was never done even though the mine operates in very close proximity to an internationally recognised Ramsar-listed wetlands... there is a loophole which allows the federal government to grant approval to the state government for mines... I can't think of anything worse than the federal government giving this Queensland government approval over any mine on North Stradbroke Island."