Experts gauge the state of car-making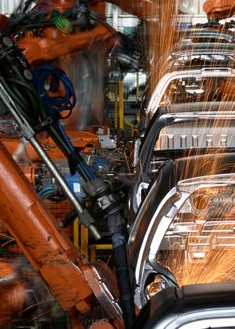 A report by industry consultants and university researchers says nearly 40,000 jobs would be lost if car makers pulled out of Australia this decade.
The Federal Chamber of Automotive Industries commissioned the report to show the need for continued subsidies to allow the automotive industry to continue. Some have previously claimed the remaining car-makers are considering pulling out of Australian operations to source cheaper parts and labour elsewhere.
The report compiled for the Chamber by the Allen Consulting Group and Monash University researchers concluded the economy was $21.5 billion better off due to the government subsidies in the car industry, along with the tens of thousands of jobs it maintains.
Federal Chamber of Automotive Industries chief executive Tony Weber said even insiders were alarmed at the findings.
"When you compare the level of assistance provided by the Government, which is less than $500 million a year, the benefit for the economy is extremely large so this is very conservative modelling," he said.
"For that investment, Australians receive significant returns through direct foreign investment, employment, skills, training, technology transfer and research. And the investment also generates spill-overs that flow into other industries and areas of the economy. Without that investment, we lose these long-lasting benefits."
South Australian Manufacturing Minister Tom Kenyon says the report increases the urgent need for extended support.
"You don't need that report, you know that the economy will be in a hole to the tune of $21.5 billion because they weren't prepared to spend $500 million, it's ridiculous," Mr Kenyon said.
Victorian Opposition treasury spokesman Tim Pallas said: "The Napthine Government, the Abbott Government need to shed their ideology and recognise that vehicle manufacturing and the associated downstream industries of component supply are vital to Victoria and the nation's interest.
"They need to get on with the work of speaking to the industry and making sure that they can preserve its future."
Independent Senator Nick Xenophon said separate studies in South Australia show more than 10,000 additional jobs would fall if the automotive industry failed.
"Those tremors would be felt right across the country," Senator Xenophon said.
"That's to say nothing of the high-tech skills and jobs that would be lost to the labour force without the training that the automotive industry provides," he said.
"These industries include engineering, robotics and design, which can be directly transferred those to other industries such as mining."
A full copy of the report; 'The Strategic role of the Australian automotive manufacturing industry, September 2013 report to the Federal Chamber of Automotive Industries', is available here.