Driver stresses assessed

Print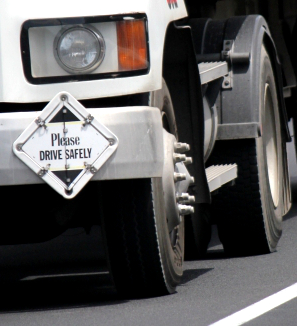 A new survey has found half of all truckies are suffering psychological distress.
Driving Health is Australia's largest survey of truck drivers, led by Monash University.
It has found that the percentage of drivers aged under 35 suffering severe distress is almost double that of Australian males of the same age.
Suicide has become the second leading cause of death for truck drivers under the age of 39. Additionally, truck drivers are 13 times more likely to die at work than any other Australian worker.
A report by the National Transport Insurance company found driver fatalities more than doubled last year.
The industry is struggling too, with many drivers leaving the job, fed up with long hours and stagnating wages, resulting in a nation-wide shortage.
Drivers also report feeling undervalued and disrespected by employers, fellow motorists, the government and society.
Researcher Elizabeth Prichard says these stats only scratch the surface on the "huge" stresses for those behind the wheel.
"The impact of this industry on drivers is larger than we ever anticipated," Dr Prichard says.
"Some fear if they talk about having challenges around mental health and wellbeing that they will be seen as being unable to do their job and will lose their job.
"Many of them are actually fearful of keeping their jobs and being employable in the future if they happen to talk about their mental health or put a claim in."
Dr Prichard said marriage breakdown, dislocation from family life and fears of infidelity are common.
"Most drivers are on their second or third relationship because previous spouses have said; 'I may as well be a single parent'," she said.
"They're doing their job and trying to provide for their families and they're doing that often in the middle of the night, for 14 to 16 hours a day, at huge costs to themselves, their sleep, their relationships and their health.
"If we don't have truck drivers, we don't have an economy. They're vitally, vitally important to keep the nation going.
"Everything we eat, drink, wear, has all come from a truck, so the implication as to how we see drivers is huge."
Michael Kaine, National Secretary of the Transport Workers Union, says it is an ongoing problem.
"We kept having to meet with widows of people who had either taken their own lives or been killed in truck accidents," Mr Kaine said.
"What we're seeing is the terrible consequences of these [workplace] pressures. This is an industry that is racked."
Mr Kaine says a new body should be created with the power to intervene and set standards to remove time pressures on the supply chain.