Dangerous fumes called out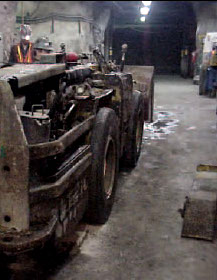 The mining industry is being confronted about the danger of underground diesel fumes.
Former mining engineer Chris Davis has been speaking out about the diesel machinery exhaust fumes churned out by heavy machinery in many of Australia's underground mines.
Mr Davis is part of a WA-based working group set up to investigate the risk.
"Every breath you take underground, you are inhaling nano diesel particulates on a massive scale," he says.
Nano diesel particulate matter (nDPM) is less than a hundredth of the width of a human hair, but Mr Davis says these tiny particles can reach deep into the body and stay there for months.
"There is an ethical imperative to do what is right for society and we shouldn't endanger society just to make a quid," he said.
Even with exhaust emission control processes in place, recent testing at one mine uncovered levels of up to a million nano diesel particulates per cubic centimetre.
That is about 100 times more than people would inhale by walking down a busy city street.
"Every mine that uses diesel underground is chronically affecting the long-term health of its workers," Mr Davis said.
The West Australian Department of Mines, Industry Regulation and Safety is aware of the risks, and has joined with the Mineral Research Institute of WA to fund a major new study of underground workers at the Sunrise Dam gold mine, 1,000 kilometres north-east of Perth.
A total of 100 workers, including 80 who work underground, have samples to test for damage to their DNA from diesel fumes.
Bill Musk, a respiratory physician at Perth's Sir Charles Gairdner hospital, says the results should be finalised by early 2019.
"The World Health Organisation (WHO) has classified diesel and silica as cancer-causing agents and so the more of them that you get, the more likely you are to develop a cancer," Professor Musk said.
"The particles when they get into the smallest parts of the lung, the air sacs of the lung, can get absorbed into the system and circulate in the blood."
There is currently no legal limit in Australia for exposure to diesel emissions.