Coal bump coming soon

Print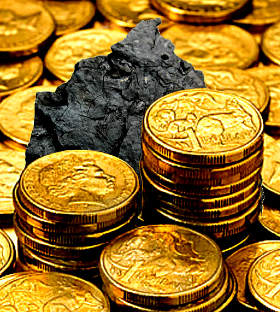 Analysts say the price of coal is about to rise, and could deliver a $A23.6bn boost to big mining groups listed in London.
The fuel source has rebounded this year, after a decision by China to cut back on production, sending import prices soaring.
Prices of coking coal - used to make steel - have risen from $US78 a tonne to $US243 a tonne this year, while the price of thermal coal (for power stations) is up 50 per cent.
The rise should bring an $US18 billion boost to the revenues of BHP Billiton (BHP), Rio Tinto (RIO), Glencore and Anglo American.
Unnamed mining executives speaking to News Corp reporters say the rise will eventually recede, still leaving it at a higher level for the year.
The increase comes at a time when coal prices were particularly low, with even the International Energy Agency expecting the slump to continue.
Analysts say coal's share of generation could fall from 40 to 16 per cent by 2035 if global anti-climate change steps are taken to limit the rise in global temperatures to 2 degrees Celsius.