Big builders plan moves after catching own union deals

Print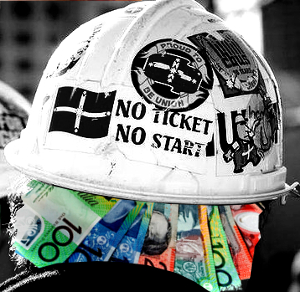 Media outlets are reporting two major Australian builders have found evidence of their own dodgy dealings, and are considering going public before a government probe finds the same thing.
News Corp publication The Australian says that Lend Lease and Brookfield Multiplex have determined that some of their employees were engaged in backroom deals with union figures to ensure industrial peace.
The paper says the companies made the discovery during risk assessments they commissioned on themselves.
The report says a government source told reporters that one company had confessed to being blackmailed by unions over supposed "membership fees" to cover non-union workers.
"The union official came up to the construction manager and said; 'Mate, you've got non-union workers on this site', and threatened to stop a concrete pour on occupational health and safety grounds," the government source said, according to the report in The Australian.
"The manager said; 'They don't want to join the union'."
"Then the unionist said; 'OK, you just pay 10 lots of membership fees and we'll sign them up anyway. That will do very well.' The union official did not even ask for the names of the workers," the quoted source alleges.
The article states that there are many cases where Lend Lease and Brookfield Multiplex gave in to unions to avoid work stoppages or go-slows, after threats to delay the project's completion and incur contract penalty fees to the client.
The risk assessments reportedly found a number of instances where construction managers weighed the costs of such delays and went with what unions said instead.
"We said it would be better to fess up before they get dragged into the royal commission," the alleged government source said.
"It's being well and truly talked about, there are going to be a few red faces."
Neither company has made public comment on the reports yet, but they may now be preparing submissions for when the royal commission does occur. It should get underway on April 9.