Back-flip ignites anger over coastal mine plan

Print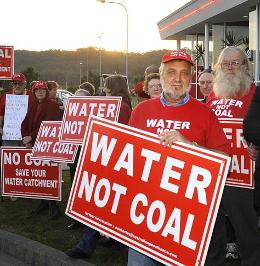 The approval of a coal mine on the New South Wales central coast has become embroiled in controversy; accusations of corruption and broken promises.
The New South Wales government has defended it Planning Department's support for a mine Barry O'Farrell said would never go ahead.
Now Premier of NSW, Mr O'Farrell claimed while in Opposition that the Wallarah 2 coal mine would not be built.
"No ifs, no buts; a guarantee," he reportedly said at the time.
This week in Parliamentary Question Time, NSW Opposition leader John Robertson prodded the Government for comment on its turnaround.
"Why have you allowed the Wallarah 2 mine to be considered when it was refused planning approval before the election?" he asked.
Mr O'Farrell struck back.
"We believe in independent merit based planning decisions that aren't tainted by corruption," he said.
The Independent Commission Against Corruption is currently investigating three local Liberal MPs, including former Resources Minister Chris Hartcher along with backbenchers Darren Webber and Chris Spence.
The three MPs are facing claims they solicited bribes in exchange for favours.
Meanwhile, the Greens say the sticky political situation is one of several reasons that the development of all future coal and gas mines under water catchments on the Central Coast should be halted.
Threats to water supplies are a major concern.
Greens MLC Dr John Kaye says legislation will be tabled for in parliament to stop any future extractive industries in the region, and he believes previous opposition to the project should be carried-on.
"Any coalition MP who votes against our 'Protect the Central Coast Water No Ifs, No Buts' legislation is acting in a way that can only be described as thoroughly and comprehensively disgraceful," Dr Kaye said.
The NSW Planning Department has given its preliminary assessment of the project to the independent Planning Assessment Commission. Authorities say the latest proposal addresses concerns that the mine would negatively impact environment resources, water supplies especially.
Rounds of public hearings will be announced soon.