Aurizon pauses Pilbara plans, could save by sacking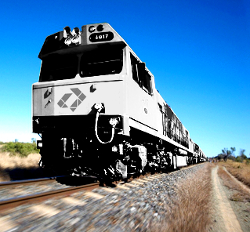 Aurizon could return cash to its shareholders to calm investor concerns about the rail group's weak growth prospects.
Weakening in commodity prices and the bold but expensive West Pilbara Iron Ore Project proposal have raised concerns, leading the company to consider capital returns to show that it has things under control.
Aurizon could make some money by offering its workers a less expensive deal, insiders say, after the company terminated its enterprise agreements late last week.
"Aurizon's strong balance sheet continues to offer capital management opportunities," a company spokesperson told the Sydney Morning Herald this week.
"Any further capital management opportunities will be considered by the board as part of the 2014-15 financial results."
It is a move backed by Aurizon investors including London-based TCI Fund Management and Perpetual.
TCI has called on the company to scrap the planned West Pilbara Iron Ore Project and give its shareholders higher dividends, increased share buybacks or a capital return.
Aurizon has made $1 billion worth of share buybacks from the Queensland government, and also has a buyback program underway for another $500 million of shares.
Since its float in late 2010, the previously government-owned company has increased its dividend payout ratio to between 60 and 70 per cent (from 50 per cent), while paying out 70 per cent of its net income in first half results.
But big investors want Aurizon to increase its capital return, as it has been relying on high investment growth.
Aurizon will decide in the next 12 months whether to proceed with its West Pilbara Iron Ore Project.
Analysts say scrapping the rail and port infrastructure project would be an indicator of a capital return.
The company could also drum up additional cash from the renegotiation of its enterprise agreements in Queensland.
Aurizon terminated the enterprise agreements for thousands of workers in Queensland late last week.
It is now waiting on for the outcome of an appeal hearing by unions, but could cut jobs in the meantime.
With the existing agreements now terminated, Aurizon is no longer bound by clauses preventing it from firing staff, and leaves workers on standard award agreements.
The agreements included a "no forced redundancy" rule that meant the company had to find jobs for or continue employing unrequired staff.
The company has offered employees a 4 per cent per year wage increase, but is calling for new work practices and productivity measures to make up for the higher wages.
It means redundancies will be an option when Aurizon closes its maintenance facility in Redbank, Queensland next month, where around 160 people currently work.