Airport opens up more solar

Print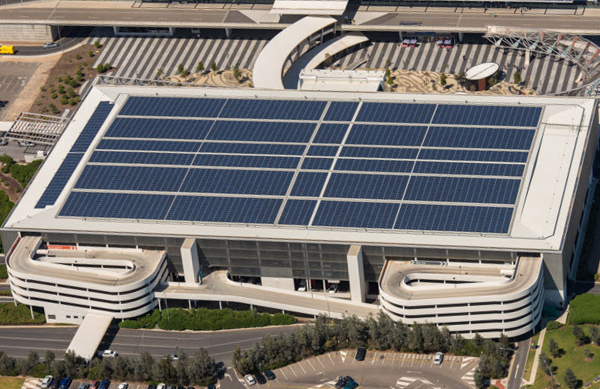 A big boost to Adelaide Airport's rooftop solar capacity is now online.
The giant 1.17MW rooftop setup is generating electricity to supply about 10 per cent of the airport's energy needs.
The panels on the roof of the short-term car park means the airport is now generating a total of 1.28MW worth of solar power.
The car park system – which is now South Australia's largest rooftop solar setup and Australia's largest solar car park – will be able to provide 100 per cent of the car park's electricity needs and feed in excess power for consumption within the main terminal.
The company behind the big build – Solgen Energy Group – says it needed to work with some truly unique specifications and stringent financial criteria to win the competitive bid process.
The system "represents an optimal solution to site constraints such as shade from other existing and potential infrastructure while ensuring financial and environmental goals are exceeded", according to Solgen executive general manager David Naismith.
"Working with the fabric of the building, the additional electrical infrastructure, including the first installation in Australia of SMA's Sunny Tripower 60 inverters, was comfortably integrated into the car park.
"With these inverters, Solgen completely customised the solar distribution board and inverters into a single room on the top level of the car park, ensuring that valuable car parking space was not lost," Naismith said.
"Almost 4,500 Trinasmart solar panels were installed with the unique capability of mitigating the effects of shading across the array from existing and potential infrastructure.
"In addition, a remote single switch will allow immediate shut-down at panel level which enhances the overall safety of the system in the event of an emergency."