ACCC sees gas constraint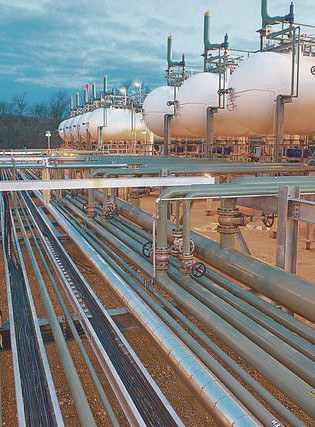 Regulators have forecast a gas supply shortfall emerges for Australia's southern states.
The domestic gas contract prices offered to commercial and industrial users for supply in 2022 increased from $6-8/GJ in late 2020 to about $7-9.50 by mid-2021, and the supply outlook from 2022 onwards looks increasingly tight, the ACCC's latest gas report reveals.
Australia's east coast spot market prices in recent months have been around $10-11/GJ, as domestic gas users have been somewhat shielded from the record high prices seen internationally.
European gas markets have been highly volatile, and as of 28 January the outlook for prices on the Asian LNG spot market in 2022 was over $36/GJ on average.
Despite continued high overseas prices, domestic contract offers to commercial and industrial gas users in mid-2021 were below export parity prices.
This was likely due to a range of factors, including expectations of relatively stable oil-linked LNG netback prices at the time, short-term domestic market dynamics and concerns over regulatory intervention, according to the report.
Across the east coast gas market, forecasts are that supply should meet demand this year, but there is the risk of a shortfall from 2026. In the southern states, a shortfall of 10 PJ is expected this year and gas will need to be directed from the north to meet demand.
Continued write-downs of proved and probable (2P) reserves, predominantly by LNG producers in Queensland, has contributed to this forecast shortfall.
"There is a gas shortage forecast for Australia's southern states from as soon as this year, which is likely to continue next year and beyond. Southern states will be reliant on gas from Queensland until additional supply from new sources comes on," ACCC Chair Rod Sims said.
The report shows that LNG producers are forecasting to take more gas out of the market in 2022 than they expect to supply in.
However, they forecast to produce an additional 122 PJ of gas that could be supplied into the domestic east coast gas market, rather than international LNG spot markets.
"We're extremely concerned that LNG producers are currently forecasting to withdraw 27 PJ more gas than they expect to supply into the domestic market this year," Mr Sims said.
"The uncertain supply situation reinforces the importance of the Australian Government's Heads of Agreement with LNG producers, which concludes on 1 January 2023."
The Heads of Agreement requires LNG exporters to offer uncontracted gas to the domestic market on internationally competitive terms before it is exported, and to provide relevant material to the ACCC to demonstrate they are complying with the agreement.
The ACCC recommends that the Australian Government consider extending the Heads of Agreement well before it expires on 1 January 2023.