FIFO fight still flying in WA

Print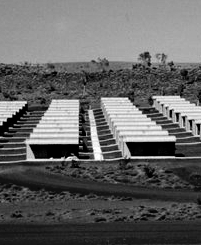 A stoush between the tiers of West Australian government continues this week, with one rural shire taking on the Barnett Government over a FIFO camp.
The WA Government wants to renew BHP's lease for the 1,200-bed Kurra camp near the town of Newman, but the Shire of East Pilbara wants to halve the number of fly-in, fly-out (FIFO) workers being housed in the camp.
The shire and the WA Nationals want the camp cut down to just 600 beds, with the rest of the workers housed in vacant properties in town.
"The shire continues to push to see if they can reduce the numbers at Kurra village, ultimately it is an arrangement between BHP and the state but we would like at least the Premier to consider what has been put forward," said East Pilbara Shire CEO Allen Cooper.
"We can only put what we think is the best for the community and that's what council is voted in to do, to continue to push for the community direction and we'll continue to push until such a time as we know a clear picture."
BHP has issued statements arguing that about 750 employees and their families currently live in Newman, and that the company was committed to encouraging a strong residential presence in the town.
BHP says it surveyed 150 of its FIFO workers, and found just 10 wanted to relocate to Newman.